2008
Christmas Spell
Self-published casual word puzzle game for iOS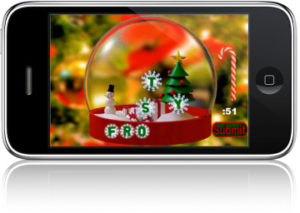 Technologies: Unity
2009
Christmas Bliss
Self-published casual word puzzle game for iOS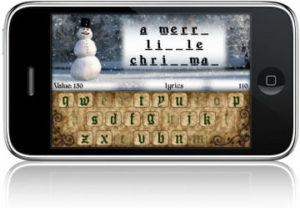 Technologies: Unity
Chicken Cannon
Self-published casual action game for iOS


Technologies: Unity
2010
Sprite Manager 2
2D sprite rendering and animation for Unity 3D game engine



Technologies: Unity
EZ GUI
High-performance 2D/3D GUI solution for Unity 3D game engine


Technologies: Unity
2012-2013
Campbell's Alphabet Soup
Contract work, Campbell Soup Company®, casual word puzzle game for iOS
(Originally released in 2009 as "Alphabet Soup")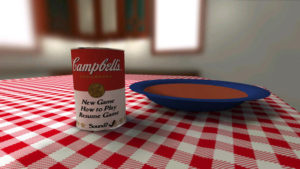 Technologies: Unity
App Store link
2015
The Good Life
Award-winning 24-hour game jam entry for Heartland Gaming Expo 2015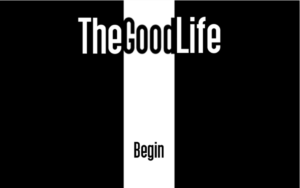 Time to develop: 24 hours
Playable WebGL version

Fusion Ball
Active VR virtual sport game for Oculus Rift and HTC Vive

Technologies: Unity, Oculus Rift, HTC Vive
Genre: Action sport
Highlight: Internet multiplayer (WIP)
2016
WalkAbout locomotion system
Original locomotion system for room-scale VR (patent-pending)

The Dark Within (working title)
Early prototype VR horror game
Technologies: Unity, HTC Vive
Genre: Mystery horror puzzle
For visuals, see WalkAbout announcement video above.
CryoCorp (aka The Sleeper Initiative)
24-hour game jam entry for Heartland Gaming Expo 2016
Winner, Best Graphics

Technologies: Unity, HTC Vive
Genre: Stealth puzzle action adventure
Highlight: Made in 24-hours, Asymmetrical networked multiplayer coming soon
Time to develop: 24 hours
Cosmic Wandering
48-hour game jam entry for itch.io global VR jam
Grand prize winner

Technologies: Unity, HTC Vive
Genre: Atmospheric abstract puzzle adventure
Highlight: First publicly released game using innovative new WalkAbout locomotion system.
Time to develop: 48 hours
VR Jam entry link
Untitled astronaut experience
Proof of concept for zero-g/microgravity hand control-based locomotion system.
Simulates an environment with microgravity where player must locomote using their hands to grapple onto affordances/anchor points, and may manipulate objects in microgravity.  Primarily intended to allow realistic simulation of space station/space craft locomotion, as well as EVA.

Technologies: Unity, HTC Vive
Blocky Horde VR
Game jam entry for Global Archiact VR jam

Technologies: Unity, HTC Vive
Genre: Wave shooter
Highlight: Up to 3-player cooperative multiplayer in VR
2017
Destination Titan
Submission for VR Austin jam 2017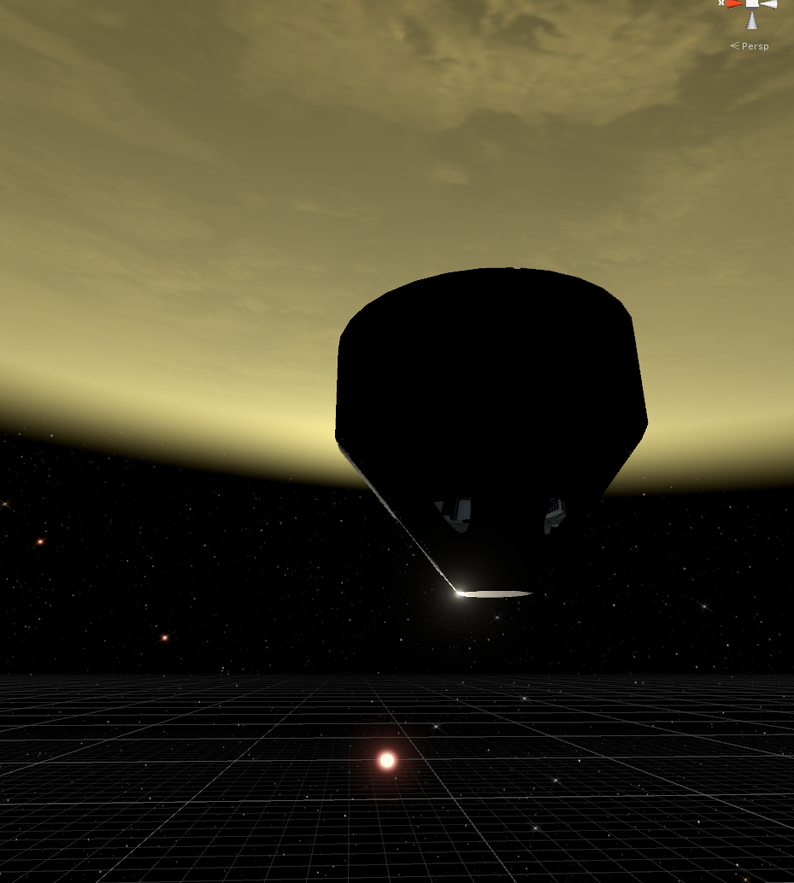 Download
Technologies: Unity
Genre: VR Asymmetrical cooperative multiplayer
Highlight: Two players cooperate in real-time in VR to assist landing a lander on Saturn's moon Titan.
2020
That Which Is Not Seen
Submission for Global Game Jam 2020


WebGL and Windows Download
Technologies: Unity
Genre: Puzzle
Highlight: Time reversal
Time to develop: 48 hours
The Dev'ing On Trail
Grand prize winner, Spelkollectivet Bonfire Jam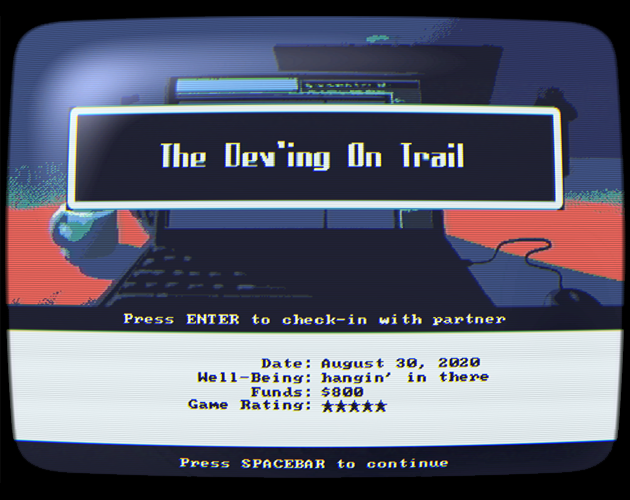 Download
Technologies: Unity
Genre: Adventure, Retro
Highlight: Retro aesthetic, two-player minigame
Time to develop: 48 hours